Construction Spending: -1.1% month-over-month (Cons: +0.3%), +6.1% year-over-year
Residential Construction Spending: -0.5% month-over-month, +8.7% year-over-year
Nonresidential Construction Spending: -1.6% month-over-month, +4.2% year-over-year
Quick Take:
June's pace of total construction spending declined 1.1% month-over-month, which was lower than the expected 0.3% increase. April and May total construction spending were revised higher however, and year-over-year construction spending growth remained at a healthy pace (+6.1% year-over-year). June construction spending's year-over-year growth rate was the highest since May 2017.
Total construction rose 2.3% in Q2 compared to Q1, and the quarterly growth was reflected in the advance estimate of Q2 real GDP released on Friday, July 27.
Total construction spending growth has accelerated since November 2017, when year-over-year growth was 1.8%, the lowest level since October 2011. The reacceleration in growth has been powered by a pickup in nonresidential construction spending (see chart below), in particular some of the more cyclical areas of construction spending (commercial, lodging, and office). These areas saw spending decline from November 2016 through November 2017 and the spurt of growth seen year-to-date in 2018 appears to already be leveling off yet again.
On the other hand, residential construction spending continues to trend steadily higher (also can be seen in chart below). Overall, we do not believe that construction spending can drive meaningful economic growth going forward. Many areas, while at high levels of spending, have shown signs of plateauing including the aforementioned commercial, lodging and office construction as well as multifamily construction.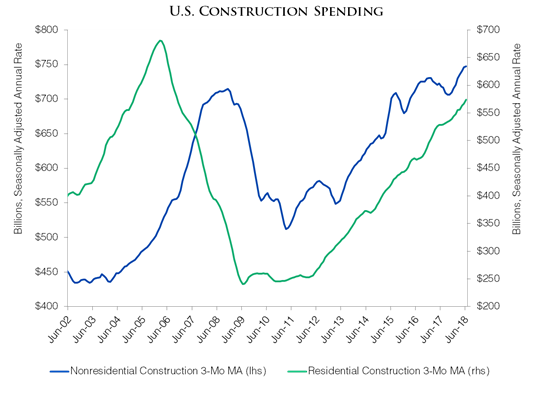 Source: U.S. Department of Commerce, WestEnd Advisors
This report should not be relied upon as investment advice or recommendation and is not intended to predict the performance of any investment. These opinions may change at any time without prior notice. All investments carry a certain degree of risk including the possible loss of principal, and an investment should be made with an understanding of the risks involved with owning a particular security or asset class. The information has been gathered from sources believed to be reliable, however data is not guaranteed.