Exports: -0.3% month-over-month, +4.9% year-over-year
Imports: -0.2% month-over-month, +5.1% year-over-year
Trade Deficit: $43.7 billion (Cons: $44.7 billion), up $0.2 billion from June
Quick Take:
The nominal trade deficit was almost unchanged compared to June as exports declined slightly more than imports.
The real goods trade deficit expanded by approximately $0.8 billion in July compared to June as real goods exports declined 0.6% month-over-month and real goods imports were unchanged month-over-month. July's real goods trade deficit of $61.6B remains narrower than the Q2 average of $62.4B which gives a very early indication that trade could be slightly additive to Q3 GDP growth. However, it is still early in the quarter.
Overall, export growth has improved from the bottoms seen in 2016, as illustrated by nominal export data in the chart below. Trade has picked up and energy prices (including prices on exported refined products), among other factors, have helped bring both nominal exports and imports higher over that time period. Given our outlook for oil prices to remain similar to where they are currently, a strong pick up in capital goods demand from international trade partners would be required in order to drive a reacceleration in exports. The U.S. dollar's weakness in 2017 may provide incremental growth to U.S. exports in the coming quarters, as U.S. goods now look cheaper to international buyers. That said, we continue to expect modest exports growth, even with an incremental boost from the weaker U.S. dollar.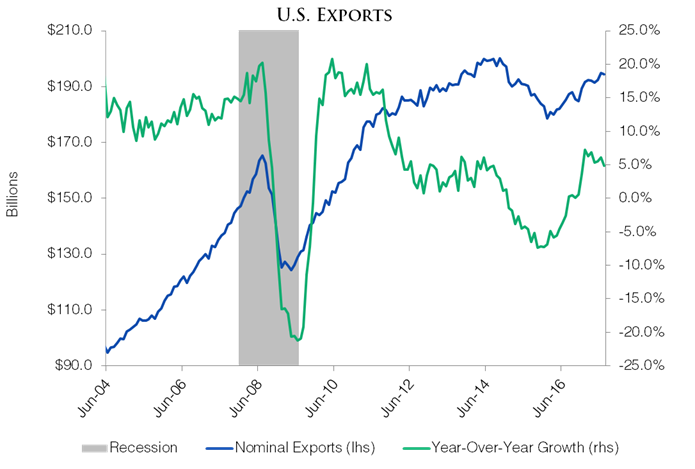 Source: U.S. Department of Commerce, WestEnd Advisors
This report should not be relied upon as investment advice or recommendation and is not intended to predict the performance of any investment. These opinions may change at any time without prior notice. All investments carry a certain degree of risk including the possible loss of principal, and an investment should be made with an understanding of the risks involved with owning a particular security or asset class. The information has been gathered from sources believed to be reliable, however data is not guaranteed.